(2017/05/02)


The special book maker is given to customers who purchase books at Tezuka Osamu Shoten for free. The design changes every two months.
For March and April, "Phoenix" is designed.
*Note quantity limited.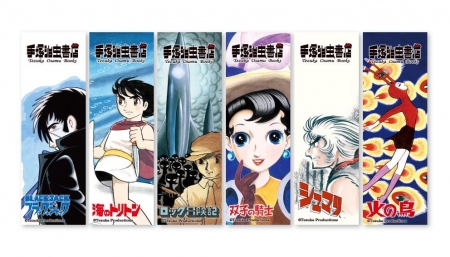 The new paper bag appears as Special Giveaway!
Get the original paper bag per book!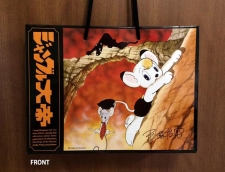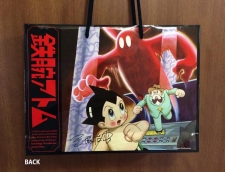 Two Tezuka Osamu Shoten stores are newly opened!
One is opened as the 2nd store within Junkudo Shoten in Nagoya on Jan, 22, and the other is opened as the 3rd store within Maruzen & Junkudo Shoten in Umeda, Osaka on Jan. 24.
Both stores have almost the same selection of books and goods as the 1st store in Marunouchi in Tokyo.
Please stop by new Tezuka Osamu Shoten!
Tezuka Osamu Shoten in Junkudo Shoten, Nagoya-Sakae
Address: 1-1 Shin-sakae, Naka-ku, Nagoya
Tel: 052-212-5260
Tezuka Osamu Shoten in Maruzen & Junkudo Shoten, Umeda
Address: CHASKA Chaya-machi 7-20 Chaya, Kita-ku, Osaka
Tel: 06-6292-7383
Tezuka Osamu Shoten in Marunouchi Mazuen Flagship store in Tokyo
Address: Maruzen 1-6-4 Marunouchi, Chiyoda-ku, Tokyo
Tel: 03-5288-8881
Hours: 9:00 – 21:00
What is "Tezuka Osamu Book Sotre"?
This store is aiming to sell all and every kind of books related to Tezuka Osamu. Not only Tezuka's manga books but also any other books related to him, including picture books, art books, manga and collaborative woks based on his works, studies and essays about him, are lined up. Customers can also use TEZUKA SPOT, a e-book library service providing his manga works for free within the site. Several goods and on-demand books are available at the store, too. Also replicas of Tezuka's manuscripts as well as popular goods in the past are displayed at galleries adjacent to the Marunouchi and Umeda stores.
Purchase Bonus
Bookmark: Customers who purchase any Tezuka related book at the store can get a special bookmark.
Book jacket: Customers who purchase any Tezuka related book can get a special book jacket.
Paper Bag: Customers who purchase thick On-demand books can get a special paper bag.