(2017/04/07)


Manga x Non-verbal Performance "Amazing Performance W3" is held from July, 2017 till March 2018 for the first time in the universe (a total of 215 performances)!
"W3", one of Tezuka's early manga works authored almost 50 years ago now appears as a non-verbal stage performance in Shibuya, the edgy are in Tokyo, Japan. The performance composed and directed by Worry Kinoshita known as the forefront of non-verbal performance contains everything from dance, mime, magic, projection mapping and acrobatics, making audience surprised once in three minutes!
Humans on earth never stop fighting…… So the three members of the Galaxy Patrolling Team are dispatched to examine whether the earth should be destroyed or saved. Now the adventure filled with unpredictable excitement is developed! What's going to happen to our earth?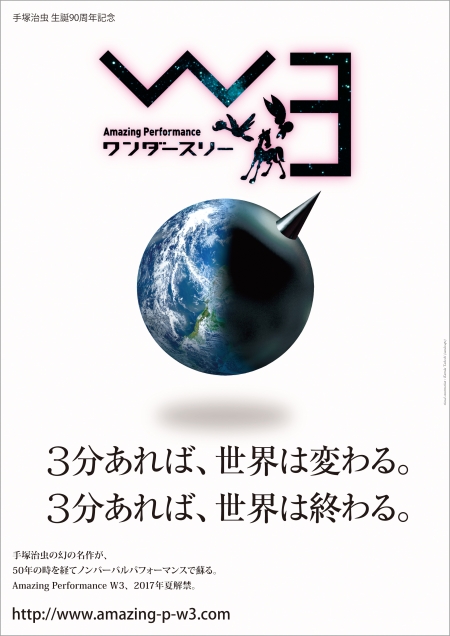 【About the performance】
Title: Amazing Performance W3, in commemoration of the 90th anniversary of Tezuka Osamu
The 1st period: July 1, 2017 till July 9, 2017 (a total of 20 stages)
The 2nd period: November 3, 2017 till March 4, 2018 (a total of 195 stages)
Venue: DDD Aoyama Cross Theater Composed and directed by Worry Kinoshita
Cast: Kazuhiro Nishijima, Yusuke Umezawa, Saki Ishisi, Makie Sekiguchi, and Minami Hirose (Understudy) Organized by Amazing Performance W3 executive committee (Nippon Boradcasting System, Yomiko Advertising, CAT Produce, Tezuka Productions, Cube, Flux)
【Ticket】
Price: 6500 yen (all seats reserved) Advance sales: Friday, April 7, 2017 General sales: Sunday, April 23, 2017