(2017/03/31)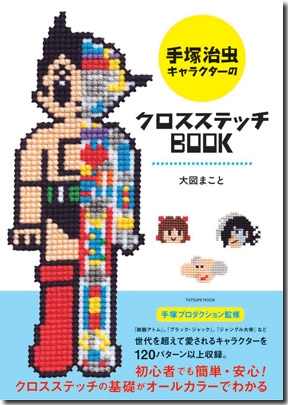 "Tezuka Osamu Characters Cross Stitch Book" released on September, 2015, is now turned into e-book.
The distribution starts from April 1, 2017 accordingly.
Information
Title:Tezuka Osamu Characters Cross Stitch Book (e-book version)
Release date: April. 1, 2017
Price: 1120 yen (tax excluded)
Author: Makoto Oozu
Profile of the author:
After graduation from University, he worked for a hobby store, becoming a cross stitch designer. With his pop and fancy designs unique to men, he draws attention from today's culture and art scene as a new comer from the field of cross stitching which has been thought mainly for women. Now he holds cross stitching lessons nation wide, appears on TV and writes hobby books a lot.
Publisher: Tezuka Productions Co., Ltd.  (copytext: Tatsumi Shuppan)
Available at the following e-book stores:
Kinoppy
Itsudemo Shoten
iBooks
DMM.com
Reader Store
Au Book Pass
E-book Initiative Japan
BookLive!
Hikari TV Shoten
Manga Zenkan.com
GALAPAGOS STORE
Google play
Kindle Store
BOOK WALKER
Rakuten KOBO