(2004/03/01)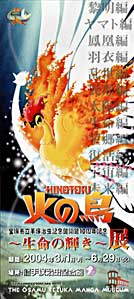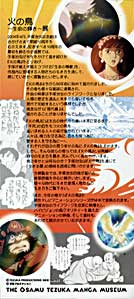 Place: The Tezuka Osamu Manga Museum
Time: March 1, 2004 – June 29, 2004

In April 2004, The Osamu Tezuka Manga Museum will celebrate its 10th anniversary. This exhibition to begin the significant 10th year features "The Phoenix," a series on which Tezuka worked for half his lifetime. Through depicting the characters' ways of life, the exhibition will enable visitors to feel "the dignity of life" that Tezuka continually advocated.

The first story of "The Phoenix" was created 50 years ago. Thereafter "The Phoenix" was serialized in various magazines and became Tezuka's "life work." The original plan was to tell stories of humans in the past and in the future, and then conclude the series with a story in modern times but unfortunately "the chapter of modern times" was never created.

"The Phoenix" depicts people who pursue a phoenix that has the "blood of immortality." The pursuit takes place in various times from the very dawn of time to the distant future. Some of these people wish to maintain their powers, some want to keep their youth, some are protecting loved ones, and some wish for something else.
Each person seeks the phoenix for his/her own idea of happiness. Besides these people, there are others who carry on with their own lives and die, having nothing to do with the phoenix. What is true happiness? Tezuka asked readers to consider the meaning of "living" through "The Phoenix."

The focus of this exhibition will be Tezuka's original artwork. Witness the ways of life of characters living in various times.

In addition, animation footage from the new animated TV series "The Phoenix" will be shown, together with related materials. The series, which is to be aired on NHK from this spring, is a faithful adaptation of Tezuka's "life work," with superior quality high-definition images.