(2005/06/30)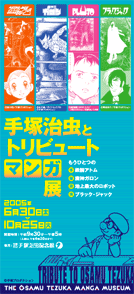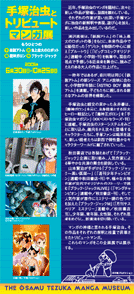 Time: June 30, 2005 – Oct. 25, 2005
Place: The Tezuka Osamu Manga Museum

Recently, in rapid succession, new manga based on Tezuka Osamu's work have appeared in magazines. Each manga artist has created a new work with his/her own unique interpretation, style, and playful touch.

Urasawa Naoki has created Pluto (now being serialized in Big Comic Original published by Shogakukan) based on Tezuka's The Greatest Robot on Earth from Astro Boy with Gerhardt, originally a secondary character, at the center of the story. The story takes place in the near future in a world that is predictable from the contemporary viewpoint. Mr. Urasawa has shaped it into a readable work for adults.

Last year, Himekawa Akira serialized ASTRO BOY-Tetsuwan Atom, based on a new Astro Boy animated TV series, in a magazine for elementary school children published by Shogakukan. It re-established the world of Astro Boy that is familiar to children today.

Nagai Go, a close friend of Tezuka Osamu, adapted Tezuka's The Devil Garon into his specialized genre of giant hero war story. The Devil King Gallon was serialized in Tezuka Osamu Magazine (published by KK Bestsellers). Mr. Nagai successfully incorporated Tezuka's "star system." Tezuka fans cheered to characters appearing one after another in different roles and new readers were fascinated by the world of highly original and spectacular characters.

Various magazines of Akita Publishing have developed Black Jack projects and have provided a gorgeous stage on which popular manga artists can co-star. Weekly Shonen Champion is serially publishing Yamamoto Kenji's Black Jack ? Black Doctor. Master manga artists have tried to create their own original new stories in relays in Black Jack Alive (now being serialized in Young Champion), and popular manga artists have colored the original manga in mystery tone in Black Jack M (Monthly Suspiria Mystery). Magazines for boys, young men, and women have each worked out an elaborate plan and have broken new ground.

Tezuka Osamu is often called the god of manga. His works have been sublimated into tribute manga by other manga artists with their own interpretations and techniques. The exhibition shows these tribute manga.