(2003/10/23)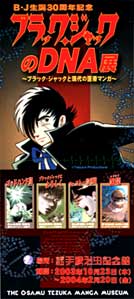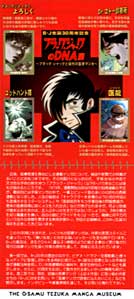 Place: The Tezuka Osamu Manga Museum
Time: Oct. 23, 2003 – Feb. 20, 2004
Have you noticed that there have been many newspaper and magazine articles regarding manga series set in medical workplaces recently? It is indisputable that Black Jack, Tezuka Osamu's work about a surgical genius, is the pioneer in the genre. When the serialization started in 1973, it was originally intended to be short, concluding after five or so episodes, but eventually it became a long serialization of 242 episodes – the largest number of episodes of any Tezuka manga series. The star system, with characters appearing in different titles as if they are actors, and the critical mind of Tezuka, who possessed a medical license, probing incisively into real medical issues, are listed among the secrets of its popularity, but more than anything else, readers are captivated by Black Jack's way of life.
"Knowing the preciousness of life, detesting a title, and taking pride in his skill" However, Black Jack is an unlicensed doctor who demands an inordinate compensation of tens of millions of yen. We will hold this special exhibition to celebrate the 30th anniversary of the birth of Black Jack.
A number of medical manga have been created over the last 30 years, and even though the authors' styles of expression are different, they all send out a strong message about "the preciousness of life." Black Jack's will has been inherited continuously, almost like DNA, and it is conveyed to readers through the creativity of the authors of current medical manga.
In the first section, Black Jack, which has been adapted for various media in its 30-year-history including videos, dramas, and the Takarazuka Revue Company, will be presented from various angles. Also, the background of the birth of Black Jack will be presented, including medical related reference materials that Tezuka used during the serialization, and his notebooks when he was a medical student. Moreover, information about the new animated Black Jack TV special to be produced celebrating the 30th anniversary will be introduced.
In the second section, feelings toward Black Jack expressed by the authors of four current popular medical manga and what they wish to tell readers though medical manga will be presented. We hope you understand their feelings through their interviews and original drawings.