(2002/07/04)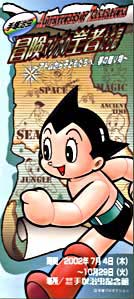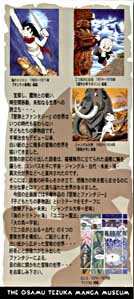 Place: The Tezuka Osamu Manga Museum
Exhibition Period: July 4, 2002 – Oct. 29, 2002
A treasure hunt, a battle with a monster, a trip through time and space, a journey to an unknown world……
In any age, the world of "adventures and fantasy" is always a dream vision that children imagine.
During his career, Tezuka Osamu created a great number of worlds of adventure on blank sheets of paper.
Readers, who embark on an adventurous journey, are excited to find signposts set up along the way which guide them into realms of space, jungle, antiquity, the future, ocean, or other dimensions, with Tezuka's compass in their hands. The readers find worlds overflowing with romanticism and dreams enough to excite their curiosity and imagination.
In this exhibition, we compose and introduce six worlds of adventure; "Astro Boy = future", "Kimba the White Lion = jungle", "Triton of the Sea = ocean", "Unico = magic", "The Phoenix = space", and "Three-Eyed One = antiquity", with Tezuka comic's themes, "dream and fantasy" and "dream vision of children", as the motif.
Enjoy, as the worlds of adventure open right in front of your eyes, extending beyond a blank sheet of paper, into the realm of fantasy generated by curiosity and imagination.