(2006/03/02)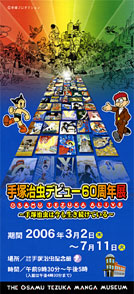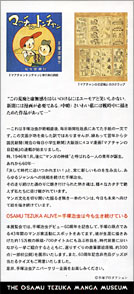 Time: March 2, 2006 – July 11, 2006
Place: The Tezuka Osamu Manga Museum

"Only humor and laughter can banish this devastation and sense of emptiness. The newspaper needs cartoons. (Omitted) Fortunately, I have a considerable amount of work I created during the war and … "
The above is an excerpt from a letter that Tezuka Osamu sent to the president of Mainichi Newspaper Co., Ltd. just after the end of the war. The letter did not work but nevertheless, as if it was fated, Tezuka started to serialize a 4-panel comic strip titled "Diary of Ma-chan" in the Osaka edition of Shokokumin Shinbun (now called the Mainichi Shogakusei Newspaper) the following year. In January 1946, this young man, who would later be called "the God of Manga," made his cartoonist debut and 60 years have passed since then.

Trying to stay ahead of the times, Tezuka Osamu always created something new and challenged all the different genres. He worked non-stop throughout his career and his pen developed and established manga culture. His works, which display his passionate spirit, have been passed on to people in diverse ways, ensuring his message is heard and will continue to be heard forever.

To celebrate the 60th anniversary of Tezuka Osamu's debut as a cartoonist, this exhibition puts a spotlight on his 43-year career. In his lifetime, he created about 700 titles and 150,000 pages of comics. His entire career is presented along with the historical background including some 300 selected original cover drawings (some of which are exhibited for the first time). Also, visitors may win 60th anniversary goods, which are not for sale, by answering a quiz.
We hope you will enjoy this Tezuka Osamu anniversary project.