(2006/07/13)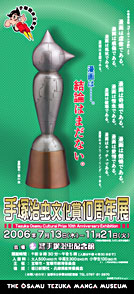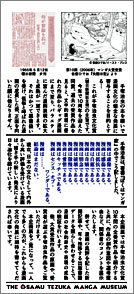 Time: July 13, 2006 – Nov 21, 2006
Place: The Tezuka Osamu Manga Museum

"To take over Tezuka Osamu's vision and contribute to the sound development of manga culture…" That is the intention of the Tezuka Osamu Cultural Prize (sponsored by The Asahi Shimbun Company).
The prize has its 10th anniversary this year. The previous prize-winning works show the expansion and maturation of manga representation, which has varied from expressive literary expression to gags.
Once treated as comprising only harmful books and considered vulgar, manga has developed and become mainstream.

Tezuka Osamu wrote the following in his book 'I am a manga artist':
Manga is virtual.
Manga is sentiment.
Manga is resistance.
Manga is masturbation.
Manga is bizarre.
Manga is pathos.
Manga is destruction.
Manga is arrogance.
Manga is love.
Manga is kitsch.
Manga is sense of wonder.
Manga is …
There is no conclusion yet.

Manga, which is now being acclaimed as an important element of Japanese culture both domestically and internationally, continues to evolve day by day through the creativity and originality of manga artists.
This exhibition introduces all the Tezuka Osamu Cultural Prize winners' works of the past 10 years, together with explanations of their creative intentions and the judges' comments.
Original drawings from the grand prize winning works are exhibited.
Also, the prize winners' favorite Tezuka Osamu works are presented.
In addition, the exhibition looks into the social history of manga and the maturity of its expression, including newspaper articles on manga and data on publishing.
We hope that this exhibition will encourage as many people as possible to take an active interest in the future development of manga culture.