(2002/03/01)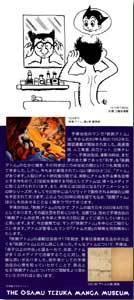 Place: The Osamu Tezuka Manga Museum
Time: Mar. 1, 2002 – July 2, 2002
Tezuka Osamu's manga Tetsuwan Atom started its magazine serialization about 50 years ago, in 1952. Expressways, satellites, lunar spacecraft, 3-D TV…Tezuka depicted a fantasy world of "science and technology" in Tetsuwan Atom at the time of serialization, and a number of these dreams have turned into reality during the course of the past half century. But there are some unrealized dreams, and "Atom" is one of them. Among robot researchers, there are some who aim at actually making "Atom." As a creation symbolizing the 21st century, Atom has been covered in various media. Next year, a new animated Atom TV series, the third series, will be launched, and the following year, a Hollywood produced film is schedule to be released. As just described, even after 50 years, the popularity of "Tetsuwan Atom" still has not faded.
In Tezuka Osamu's manga Tetsuwan Atom, Atom's birth date is Apr. 7, 2003. With this birth date approaching, the museum will arrange a new presentation of Tezuka Osamu's "the world of Tetsuwan Atom" in two special exhibitions, this year and next year. In this year's special exhibition, the manga Tetsuwan Atom will be featured. There will be a special showing of a rough draft of the manga Captain Atom in which Atom made his first appearance.
The serialization of Tetsuwan Atom continued for nearly 17 years. Tezuka spent almost half of his career as a manga artist with Tetsuwan Atom. Tezuka described Atom as being more than a son, but at the same time he felt mixed feelings at Atom being available in many media. By revealing the feelings of the original author, Tezuka Osamu, we hope visitors will gain a better comprehension of Tetsuwan Atom, Tezuka's original starting point.