(1998/04/28)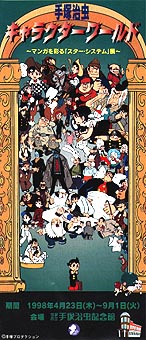 From his debut in 1946 at the age of seventeen, Tezuka Osamu drew more than 700 Manga works, which he has bequeathed to us. It is probably impossible to count all the characters that appear in these works. Among this galaxy of characters there are numerous individualistic characters whose existence and activities permeate every aspect of Tezuka Osamu's Manga works.
"The Star System" – a method employed by performers in movies and theaters in which popular actors and actresses were heavily promoted in order to arouse interest among spectators – was established by Hollywood and is one of the methods involved in movie production. Tezuka Osamu incorporated this distinctive method into his own Manga productions. As with movie actors, the individualistic characters created by Tezuka Osamu changed their roles and their appearance and appeared in numerous different works. And just like a movie director, Tezuka Osamu took pleasure in masterminding his characters and in setting them in motion.
Part one of this exhibition brings together a variety of materials including those that foreshadow the "Star System" introduced by Tezuka Osamu and materials that provide a background to the age (movies and theater productions that Tezuka Osamu is presumed to have watched). Part two brings together the stars of Tezuka Osamu's Manga, offering character profiles and introducing the famous scenes in which these characters played active roles. In order that you may enjoy to the full the "character world" of Tezuka Osamu, a total of 49 characters have been assembled here, from stars whose names and faces are widely recognized to those who are instantly recognizable but whose names are elusive.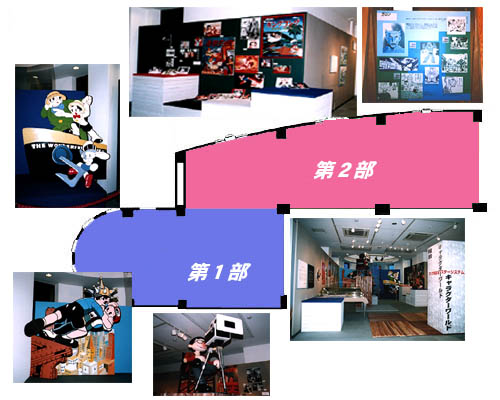 [Part 1] What is the "Star System"?
Tezuka Osamu entered the Medical Faculty of Osaka University in 1945. It was here that he encountered student theatricals, and he was a member of the "Gakuyuza" group that was formed for the culture festival hosted by the Medical Faculty the following year.
These experiences animate Tezuka Osamu's creative activities in future years including the birth of story Manga and the star system.
Tezuka Osamu gathered hints from these student theatricals and the films and Takarazuka performances he watched in his childhood and introduced them into the "Star System" of his own Manga works.
The "Star System" – is a method employed by performers in movies and theaters in which popular actors and actresses were intentionally subjected to heavy promotion in order to incite the fascination of audiences. It was a method that was already being employed in Hollywood at the time, and is currently a ubiquitous technique used in movies and television dramas everywhere.
Among Tezuka Osamu's characters are creations born from childhood doodles and characters that existed from before his debut as a Manga artist. Since these characters were conceived out of the free family environment of his childhood days, Tezuka Osamu's long acquaintanceship with them means that they are like blood relations. Tezuka Osamu was very attached to his characters and his natural desire to give them appearances in various works led to their incorporation in a "Star System".
Part one offers a background to Tezuka Osamu's "Star System" by focusing on the movies and theater productions that he is believed to have seen as a child and introducing the actors of the day.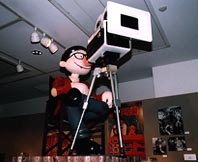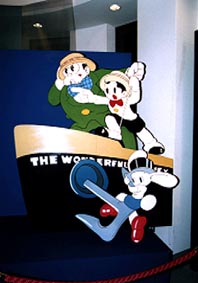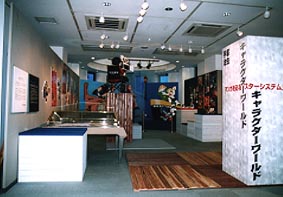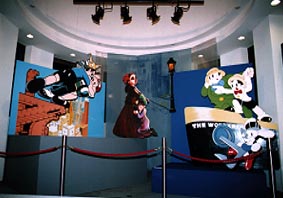 [Part 2] The stars of Tezuka Osamu's Manga
There are as many characters in Tezuka Osamu's Manga as there are stars, no, more. In part two we have selected characters who appeared in more than one work and took on different roles, the so-called "stars" of Tezuka Osamu's works.
The 49 characters (some are animals…) who have been selected as stars include some whose names may be elusive faces but whose are instantly recognizable. They may not have had the starring role, but appeared at an important point in the story – in fact, these are the real "stars". The spotlight inevitably shines on the star players; this time we wanted to turn it on the characters that support the works but who tend to do so from the shadows.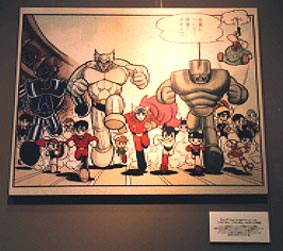 Part two features profiles on each of these stars and introduces the works in which they made their debuts and the types of roles they took on in a chronological sequence. The second half of the exhibition introduces the activities of the stars and includes the "Star System" for "Black Jack", the work that eclipses everything that came before it, and original manuscripts in which all the characters appear simultaneously.
Given that these 49 stars appeared in a staggering number of works, if bit-parts are included, and the limitations on space, this is not an all-inclusive exhibition. We hope that you will seek out other works in which these characters appear in addition to the works featured here. We are sure you will soon find them.
Now, please take a look at the famous performances of the stars.