(2006/11/23)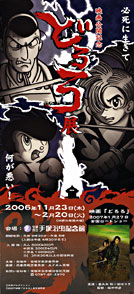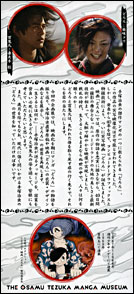 Time: Nov. 23, 2006 – Feb. 20, 2007
Place: The Tezuka Osamu Manga Museum

Dororo is counted among Tezuka Osamu's masterpiece comics. It had been said that making it into a live action film was impossible. But after 40 years from publication, using computer graphics and special effects technology, a live action film of Dororo has finally been made.
While faithfully adapting the story of the original comic, the film Dororo has produced bold and lively images with state-of-the-art technology combined with the beauty of nature in New Zealand where the 40-day shoot was done.
Although it is a war-torn era when even surviving is not easy, people still have desires beyond just living. Dororo and Hyakkimaru witness this wherever they go on their trip to retrieve Hyakkimaru's missing body parts.

On the occasion of the film adaptation, this exhibition recreates the world of Dororo. It re-examines the story of the comic Dororo and presents displays including Tezuka Osamu's original drawings and costume design drawings for the film.
"What does it mean to live?" We hope visitors will think about this question that Tezuka raised through the lives of Dororo and Hyakkimaru who are fated to bear a burden and struggle to live.
We also hope visitors will get to know the world of Tezuka Osamu's Dororo which has a message that is still relevant now, even after many years.