(2001/03/01)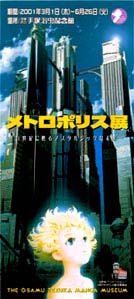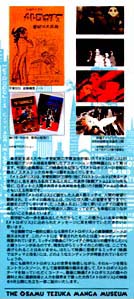 Place: The Tezuka Osamu Manga Museum
Time: Mar. 1, 2001 – June 26, 2001
Now, after entering the new century, Tezuka Osamu's manga Metropolis, which was created half a century ago, will be revived as an animated feature film employing state-of-the-art digital technology. With the title "Metropolis – A Nostalgic Future Revived in the 21st Century," a special exhibition will be held to mark the film adaptation.
Metropolis is one of the masterpieces included in Tezuka's early science fiction trilogy (along with Lost World and Next World) and depicts a future world, where humans and robots coexist. It can be regarded as the origin of Astro Boy since it was created 10 years earlier.
Mitchy is an android born in a future city called "Metropolis." Suffering as a result of human lust, pure-hearted Mitchy changes and eventually swears vengeance on humans. Through Mitchy's brief and transient life of only several months, Tezuka shows that the development of science does not necessarily bring humans happiness.
A step forward into the new century has been taken and now is the time to listen to Tezuka's message in this nostalgic future tale, Metropolis. In this special exhibition, the idea notebook for the manga Metropolis in Tezuka's original handwriting will be displayed to the public for the first time. In the notebook, there is a different ending from the one actually published. It is a scene where Mitchy wishes to shake hands and make up with Kenichi. Unfortunately, Mitchy's wish is not granted. What kind of ending will be provided for Mitchy (renamed to "Tima") in the movie?
In addition, the entrance zone will be an area in which to experience the world of the manga Metropolis and trace its roots. The next zone is to learn about the theme of Metropolis through the display of original drawings. In the last zone, some footage from the movie "Metropolis," which was made utilizing state-of-the-art technology and expertise to the limit, will be shown in advance of the release in June, with a display of a great number of related materials.