(2007/03/01)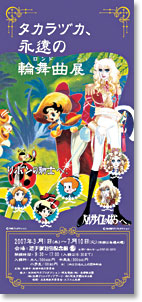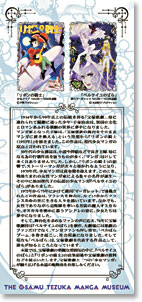 Time: Mar. 1, 2007 – July 10, 2007
Place: The Tezuka Osamu Manga Museum

The Takarazuka Revue has a proud history of more than 90 years since it was started in 1914.
As a boy, Tezuka Osamu was often taken to the Takarazuka Theater by his mother and was fascinated with the world of the Takarazuka, which overflowed with foreign cultures and romance.

When Tezuka became a manga artist, he drew Princess Knight (1953) with the idea of recreating the Takarazuka stage in manga.
This work is said to be the origin of the contemporary shoujo manga, or girls' comics. Girls' magazines in the 1950s mostly carried novels and illustrations to teach the etiquette for being a good wife and wise mother, and hardly ever contained manga.
But in consequence of Princess Knight, a succession of manga for girls was drawn and in the 1970s the shoujo manga reached its golden era.
At this time, many masterpieces were created by women manga artists who had been born after the war.
These works included Ikeda Riyoko's legendary shoujo manga Berusaiyu no Bara, that is The Rose of Versailles in English.

Serialized in the weekly magazine Margaret between 1972 and 1973,The Rose of Versailles is set in France and depicts people living in the ear of Louis XV and during the French Revolution.
Girls were crazy about the characters, especially Oscar, a beauty in male attire, who is the commander of the royal guard even though she is a woman, and André, who harbors a secret love for Oscar.
Responding to fans' request for staging, the Takarazuka Revue performed The Rose of Versailles in 1974.
The theater was invaded by both Takarazuka fans and manga fans, and the Berubara boom became a social phenomenon.

To this day, The Rose of Versailles is a hallmark of the Takarazuka Revue that everyone knows.
In the gorgeous atmosphere of the Takarazuka Revue, this exhibition will show original drawings from The Rose of Versailles and Princess Knight and documents relating to the Takarazuka Revue.
Enjoy the eternal rondo that the Takarazuka Revue and the two shoujo manga play.