(2007/07/12)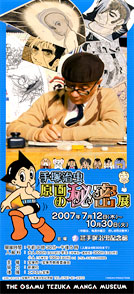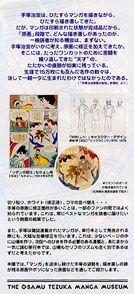 Time: July 12, 2007-October 30, 2007
Place: The Tezuka Osamu Manga Museum

Tezuka Osamu devoted himself to drawing and redrawing manga over and over again.
However, the reading public usually has no opportunity to see how his manga were redrawn in the course of their creation because the printed work is the end product.
What Tezuka thought and how he made modifications.
Signs of his struggle evidently remain in his original drawings, which show how the "genius" repeatedly tried to make every frame better.
Tezuka drew nearly 150,000 pages of manga in his lifetime, and creating those masterpieces wasn't all easy.

(Excerpt from Tezuka Osamu; the secrets in his original drawings, published by Shinchosha)

Cut-and-paste, white-out, rearranging frames…
Some fans know that Tezuka made many modifications to his original drawings. This resulted from his enthusiasm for always providing readers with the best manga.

Moreover, Tezuka thoroughly retouched his magazine serial manga when they became books. That was because he believed a serialization and a book must be two different things in terms of climax and rhythm of dialogue since a serialization needs to have a climax within a limited number of pages and must draw the reader to the next issue, while a book is read from the beginning in one sitting.

This exhibition demonstrates Tezuka's devotion to manga by showing original drawings that have traces of redrawing, and rejected original drawings.