(2007/11/01)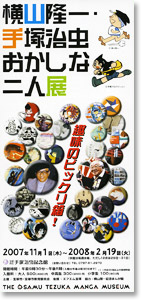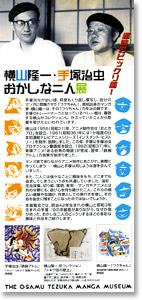 Time: Nov. 1, 2007 – Feb. 19, 2008
Place: The Tezuka Osamu Manga Museum

Fuku-chan is a character that Osamu Tezuka, as a child, reproduced over and over again and featured in his drawings. Ryuichi Yokoyama, a manga artist from Kochi Prefecture, is the creator of the Fuku-chan character. It is said that Tezuka started to wear his trademark beret as a result of the influence of Yokoyama, whom Tezuka respected and who collected and wore berets.

Yokoyama established an animation production company called Otogi Pro in 1956. In 1961 it produced the first Japanese animated TV series with each episode lasting about one minute entitled Instant History. In that year, Tezuka established Tezuka Osamu Production Animation Division and this produced Tales of the Street Corner in 1962. The following year, Astro Boy went on air.

Being manga artists but yearning for animation production and actually making animations, Yokoyama and Tezuka followed similar paths.

Moreover, the two were similar in that they were interested in many things and pursued their interests avidly. Besides manga and animation they kept their curiosity alive in subjects such as oil painting, insect collecting, paper cutouts, rakugo, and sculpture. It could be said that this breadth of experience and knowledge gave depth to their work and helped them to become legendary manga artists.

This exhibition will introduce the works and the astonishingly diverse interests of the odd couple. They were 19 years apart in age since Tezuka was born in 1928 and Yokoyama in 1909, but somehow they just clicked.