(2017/03/08)


The initial broadcasting date of TV animation series: Atom the Beginning, the story before the birth of Astro Boy, was announced as follows.
Date: April 15, 2017
Time: 23:00
Station: NHK  (broadcast on every Saturday)
The series is also exclusively distributed on Amazon Prime Video from 2:30 a.m. on Sunday, April 16!
Plus!
The key visual of the series, the image of two genius, Umataro Tenma and Hiroshi Ochanoizu, was released.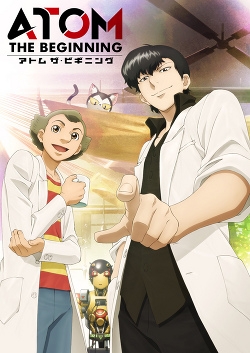 ©Tezuka Productions, Masami Yuki, Tetsuro Kasahara, HERO'S/Atom the Beginning Production Committee
Now the story of Dr. Tenma and Dr. Ochanomizu in their youth is revealed.  Don't' miss it!