(2009/11/04)


November 3rd was the birthday of Tezuka Osamu.  
There was a little surprise on the online news site of The Asahi Shinbun, asahi.com. Did you notice the logo in the top left corner? It incorporated the image of Tezuka Osamu. Unfortunately, it has now returned to the usual form.  
Well, for those who missed it …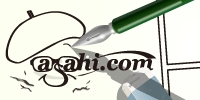 We wish this logo would always be used.