(2017/02/10)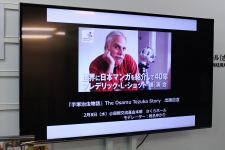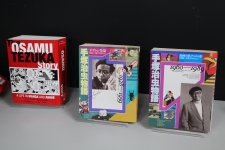 The lecture by Frederic L. Shoot was held at Japan Foundation, commemorating the publication of translated version of "Tezuka Osamu Monogatari".
Ms. Yukari Shina, a researcher of North-America manga culture and a manga tralnslator, acted as the moderator.
At the lecture, Mr. Shoot shared with audience his 40 year's experience and career as a translator, critic and lecturer. The venue was packed with full audience.
His first encounter with Tezuka works was "Phoenix", which his friend recommended him.
When he visited Tezuka Productions to convey his enthusiastic hope to translate "Phoenix" by himself, he luckily met Tezuka Osamu in person.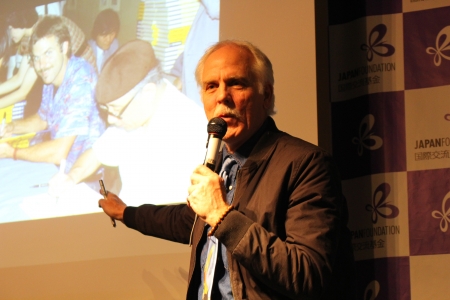 He authored "MANGA! MANGA! The World of Japanese Comics", the first critical essay featuring Japanese manga, which was published in 1983 before Japanese comics were distributed in North America in full swing.
At his autography session in Tokyo, Tezuka also participated in, attracting many fans.
One of the audience who got Tezuka's autography then showed the book during the lecture.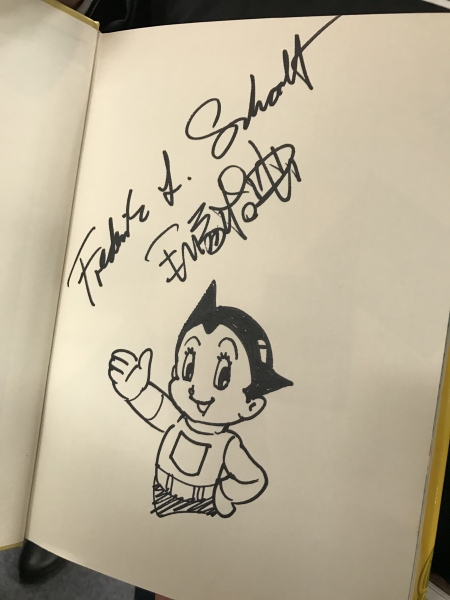 Tezuka always gave an autography with illustration for his fans.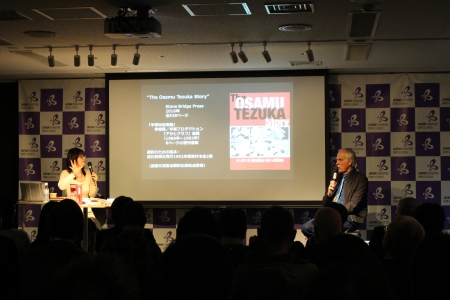 The English version of "THE OSAMU TEZUKA Story" was published in the U.S. supported by Japan Foundation.
Mr. Shoot said it was quite a challenge for him to translate "mob scene" as well as gags typical in Japanese pop culture.
What breathtaking was a 45 pages of Tezuka's chronological table which included information of not only his all manga and animation works but also postcards and calendars, all with English translation.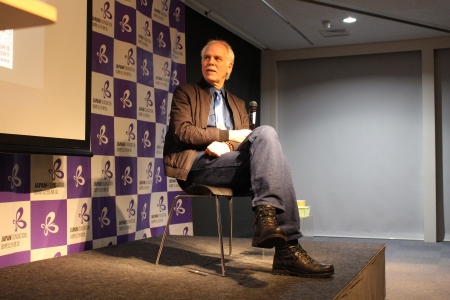 For details about "The Osamu Tezuka Story: A Live in Managa and Anime