(2017/01/31)


TOMM  the 70th Exhibition
Atom the Beginning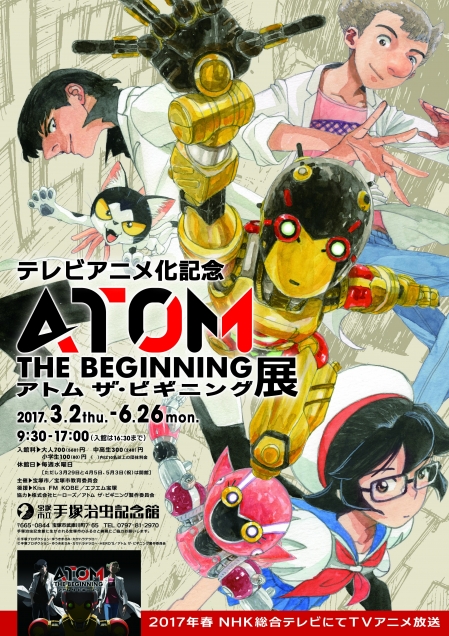 The serialization of Atom the Beginning started on Monthly Hero's January, 2015 issue, and the animation series based on the work also starts this spring.
Now commemorating the broadcast of the series, TOMM holds the exhibition featuring the original manga, Atom the Beginning.
Atom the Beginning is a story before the birth of Astro Boy. The setting is near-future Japan recovering form a disaster of unknown cause, and the college day of two young students, Tenma and Ochanomizu who later create Astro Boy, are depicted.
The reasons why the two became to create AI with a pure heart like Astro Boy but took different paths later are revealed in the series.
The series is also homage to Tezuka. Not only Tenma and Ochanomizu but also other Tezuka characters appear in the series, and new interpretations of Tezuka's works are found in places.
Period: Thursday, March 2, 2017 – Monday, June 26, 2017
Closed on every Wednesday (except March 29, April 5 and May 3)
Hours: 9:30– 17:00 (last admission: 16:30)