(2016/12/22)


In March, 2017, "Pictures at Exhibition" is screened with live orchestra performance at Tokushima International Short Film Festival 2017 as "Cinema Orchestra".
"Pictures at an Exhibition" was an omnibus experimental animation work by Tezuka Osamu who was inspired by the suite titled the same composed by Mussorgsky. Among several music versions of the work arranged or conducted differently, the first original version conducted by Kazuyoshi Akiyama in 1966 is performed this time by Tokushima Memorial Orchestra, which consists of professional musicians and is directed by Kazuyoshi Akiyama.
Cinema Orchestra "Pictures at an Exhibition"
1966/39 min.
Original idea/Composition/General Director: Tezuka Osamu
Conductor: Toshiyuki Kudo
Orchestra: Tokushima Memorial Orchestra
Composer: Mussorgsky
Arranger: Yoshihiro Nagayama
Date & Time: Saturday, March 4, 2017 10:30 & 13:30 (two performances/day)
Venue: Awagin Hall (Tokushima city)
Tokushima International Short Film Festival 2017 From Mar. 3. 2017 – Mar. 5, 2017
Organizaed by "vs Tokyo" executive committee (chaired by Kamon Iizumi, Governor of Tokusihma prefecture)
Period: March 3, 1017 – March 5m 2017
General Director: Seichi Hishikawa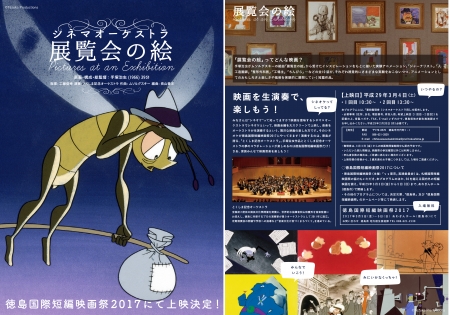 Contact: Chousousei-ka, Tokshima Prefecture
Tel: 088-621-2130
MAIL:chihousouseisuishinka@pref.tokushima.jp