(2016/12/05)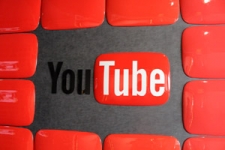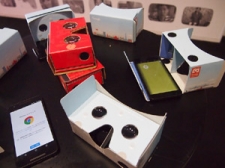 On December 1, animators at Tezuka Productions, drew Astro Boy as the opening performance for Google's press conference announcing the latest VR technology at YouTube Space Tokyo in Roppongi.
Shinji Seya and Momoko Yamada, wearing the special goggles, drew Astro Boy in empty space with Google's 3D application called "Tilt Brush".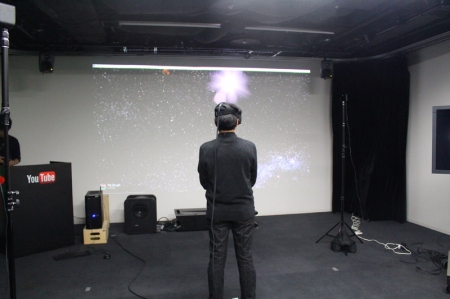 Using their hands and special equipment, they drew up Astro boy flying with jet-spray.
Here, a joint performance by Astro Boy, the symbolic hero for future from half a century ago, and Tilt Brush, one of today's symbolic tools for future, was finally realized.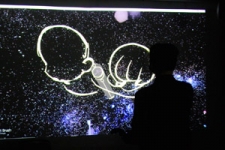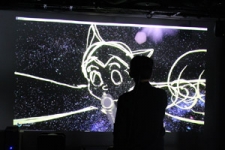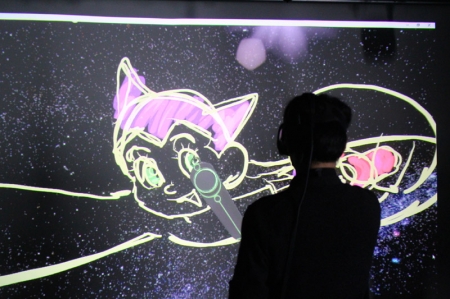 The two animators told about their experience as follows:
Yamada said, "I felt like I was actually in the view I saw in the goggle. It was like squeezing tube paste from the tube in the air when drawing with controllers in hands."
Seya said, "I advise to give up the image of drawing on paper first, and draw freely just like scribbling in empty space. You can choose any line you want. It's really fun. This time, I first drew the face, then drew hands a bit short of the face, and drew legs a bit behind so that I could express the depth.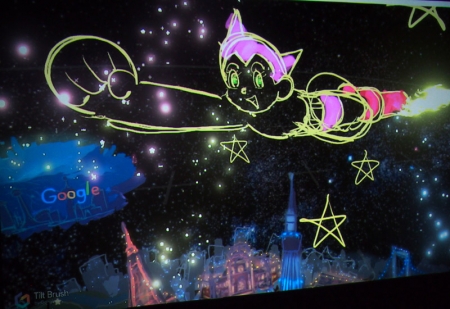 It's just amazing to see Astro Boy surrounded with shining stars in empty space.
Now the drawing performance by Shinji Saya is available at the following:
Venue: VR GALLERY by Sony Digital Entertainment
Address: 2-40-1 Asagaya-minami, Suginami, Tokyo
Period: Dec.9, 2016- Feb.28, 2017
Available from 11:00 to 18:00 on Wednesday, Thursday and Friday only.
Reservation required: http://vr-gallery.jp/index_en.php