(2016/09/28)


Astro boy, Black Jack, Leo and a lot more… Tezuka characters get together in a new puzzle game!
Connect three or more pieces to get combos! The longer the chain is, the higher the combo becomes. Use various powers and boosters to get higher points! Players can also enjoy decorating the avatar with trophies they get through the game.
●What's new about the game with iMessage (iOS10)
Players can share the items they get in the game through iMessage. Also all the members in the chat room can participate in the construction of the secret base!
Other than the items got in the room, the players can get 10 famous Tezuka characters' stickers for free.
Free application.
Note some items are chargeable.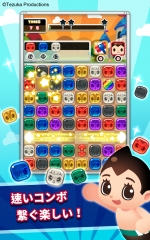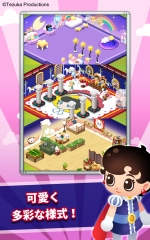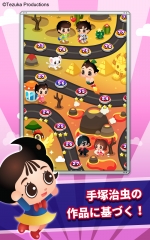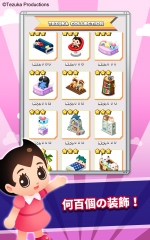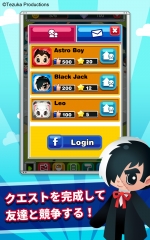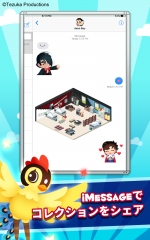 Price: free (except some chargeable items)
Area: more than 130 nations including Japan (154 nations for APP Store/136 nations for Google Play)
Language: Japanese, English, Chinese, Korean, French, German, Spanish, Italian, Portuguese
OS: iOS 9.0 or higher/Android Version 2.3 or higher
URL:
【iOS】 https://itunes.apple.com/jp/app/tezuka-world-astro-crunch/id1093356618?l=en&mt=8
【Google Play】 https://play.google.com/store/apps/details?id=com.animoca.google.TWAC&hl=ja
【Movie】 https://www.youtube.com/watch?v=A2491×7Puro&feature=youtu.be
Website: https://launchkit.io/websites/5JNhei67glw/?_branch_match_id=309231507669370822
LINE: http://line.me/ti/p/%40yqw8954k
Facebook: https://www.facebook.com/tezukaworld/