(2016/05/26)


The World of ULTRA Heroes
The 50 years history from TV broadcasting of ULTRAMAN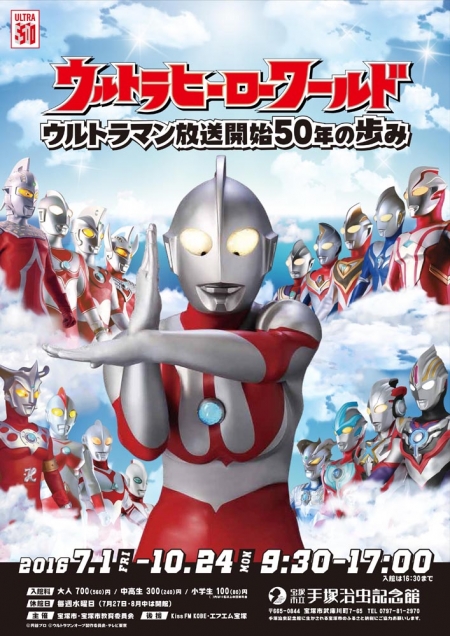 In July, 1966, our hero, ULTRAMAN firstly appeared on TV.
This huge hero was supported fanatically by Japanese people thanks to the attraction of ULTRAMAN himself. The programs also attracted people with the uniqueness of monsters and aliens, humanity of Science Investigation Team and the entertaining stories.
Since the first broadcast 50 years ago, ULTRA heroes have kept evolving beyond the boundaries of media, being loved by all generations in Japan. Indeed, it is said that the ULTRA series is on of the national TV series.
The exhibition: The World of ULTRA Heroes, introduces a total of 39 episodes of ULTRAMAN as well as the footsteps of all ULTRA heroes, from ULTRAMAN in 1966 till ULTRAMAN ORB in 2016. Also the diorama of the set and a photo corner are prepared for audience.
Organized by Takarazuka City, Takarazuka Board of Education
Supported by Kiss FM Kobe and FM Takarazuka
Period: July 1, 2016 – October 24, 2016
Holiday: Wednesday (except July 27, April 6, and Wednesdays in August)
Hours: 9:30 – 17:00 (last admission: 16:30)