(2010/02/16)


With the renewal of "POs-Ca", Ezaki Glico Co., Ltd. decides to use Astro Boy for its TV commercial. The silhouette of Astro Boy and the familiar theme song arranged and translated into English make the footage very impressive. Plus Astor Shun Oguri is voice acting Astro Boy in it. The commercial is planed to be aired from Mar, 2. Don't miss it!
check its redesigned package with Astro Boy silhouette. The new "POs-Ca" appears on store shelves on Mar. 2. Now have a report of the press conference held on Feb. 15.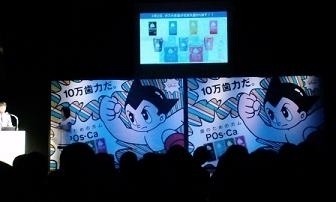 Stage at the Press Conference
The images of new packages are projected above Astro Boy posters displayed on the stage. New "POs-Ca" is available at the store on Mar. 2.
The press conference started. And the music was played.
Behind the smoke, Astro Boy and Shun Oguri, who did Astro Boy's voice in the commercial, appeared on the stage!
What followed on the stage was a talk show with Mr. Oguri on teeth.
Ms. Aya Nakata, a female dentist, also joined .in the middle of the show. In addition, a questionnaire to 50 female dental college students with analyzers was held on the stage.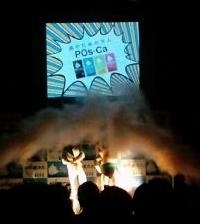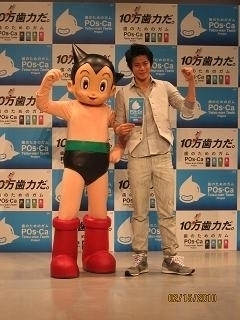 Astro Boy with Shun Oguri.
Click below for further information of "POs-Ca".
http://www.glico.co.jp/posca/index.htm
The posters of new "POs-Ca" will be displayed in the train and on the street from the beginning of March. Additional information about the product will be continually posted on this site