(2016/05/02)


The 302nd Tezuka Fan Magazine is uploaded.
Jump to the linked page (PDF):
https://tezukaosamu.net/jp/fanclub/index.html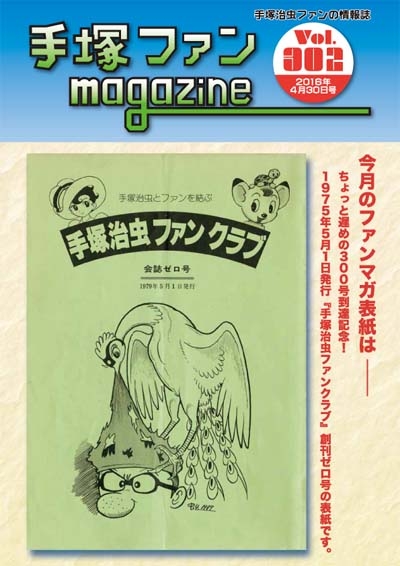 INDEX
* The 41st "Bokura ga Aishita Tezuka Osamu" by Reito Nikaido
* The 86th "Watashino naka no Tezuka Osamu" by Shigeto Ikehara #2 (writer: Takashi Hamada)
* The 100th Tezuka Osamu Cinema Theater by Fumio Noguchi
* The 28th "Imasara Ichi-kara Tezuka Osamu!" (by Osamu Takeuchi)
* Information
* Fan Room
"From the bookshelf in the material room" by Seiji Mori is suspended because of Mr Mori's sudden passing. We would like to offer our deepest sympathy.