(2016/04/28)


The DVD of the Musical: Princess Knight, performed at Akasaka Act Theater in Tokyo last Novemeber, and at Theater BRAVA! in Osaka last December is released! Enjoy the dynamic songs and stage performance by wonderful actors, including Erika Ikuta (Nogizaka 46) as the heroin dressed as a man on DVD.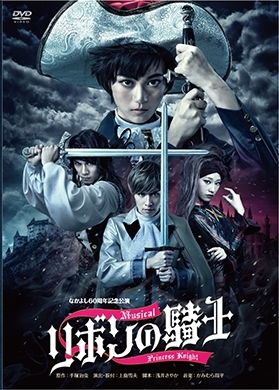 Product Information
The DVD "The Musical: Princess Knight"
released on April 28
Price: 6800 yen (tax included)
Specification: 2 disks with a booklet
Disc 1: The Musical: Princess Knight
Disc 2: Special Video (cast interviews/backstage etc.)
Purchase from the site below: here!
Original work: Tezuka Osamu
Stage Director/Choreographer: Yukio Ueshima
Script: Sayaka Asai
Music: Shuhei Kamimura
Cast: Erika Ikuta (Nogizaka 46). Keisuke Kaminaga, Tsunenori Aoki, Tomoru Akazawa, Yukiko Ikeda, Shinichi Katori, Kaoru Noguchi, Shinichi Chiyoda, Airi Kanda, Shoko Haida, Masakatsu Nemoto, Yuichi Yasoda, Reika Sakurai (Nogizaka 46) etc.