Reflectionon on the 70th anniversary of the end of WW II
"Three Adolfs - as a witness of war"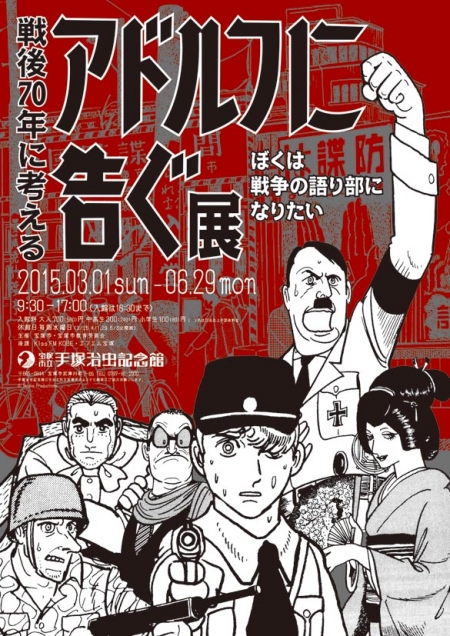 Osamu Tezuka said, "I had a desire to leave the memory of war as a man grown up in the middle of WW II.  But the memory has been fading out because more than 40 years have passed since the end of war.  I would not be able to keep writing manga for a long time, so I think of writing the story of war while I can."
(excerpt from the interview article contained in Josei Seven March 13, 1986 issue)
The serialization of Three Adolf started in 1983 when Tezuka was 55 years old. In the interview above, he was also quoted as saying, "The war was not a history, but a reality for me. Now the population having experienced war is decreasing year by year, and I thought I had to somehow bring an end as a witness of war by conveying what Isaw.
Tezuka had authored several manga works related to war other than Three Adolfs, but his enthusiasm toward the work must have been more than ever. He started writing the work metaphysically as a man who actually experienced war, to correspond the chief editor's request of "utterly serious saga".
Thus, Tezuka experienced war by himself and felt the fear of death in his hometown Takarazuka. Such his experience later became the basis of his manga works.
This year is the 70th anniversary of the end of World War II. Once Tezuka told that August 15, 1945, the day Japan declared the end of war was the starting point of his manga.  The exhibition explores what he wanted to teach through "Three Adolfs" as well as introduces some other his works about war.  Tezuka's thought as a witness of war is conveyed to us through the exhibition.
The 64th Exhibition: Three Adolfs - as a witness of war - Reflection on the 70th anniversary of the end of WW II
Period: March 1m 2015 – June 29, 2015
Holidays: Wednesdays (except March 25, April 1, April 29 and May 6)
Organizer: Takarazuka City, Takarazuka City Board of Education
Supponsored by Kiss FM KOBE/FM Takarazuka
Now the museum shop has various goods/products of "Three Adolf" for the 64th exhibition!
For more information, visit the site below : here!