The 71st Exhibition: Hatsune Miku x Tezuka Osamu –The World Linked by Isao Tomita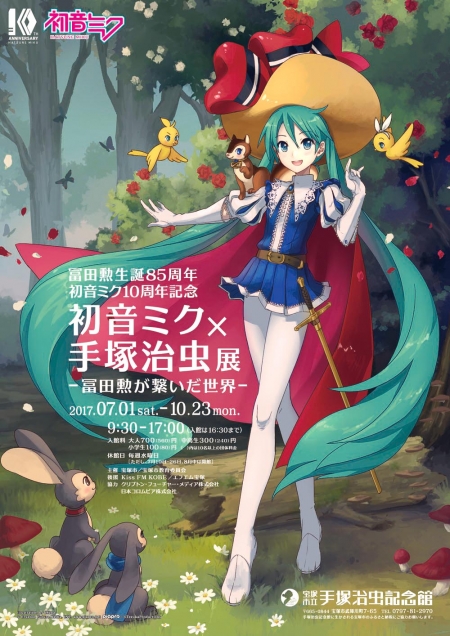 Hatsune Miku, software with which anyone can make Vocaloid music piece just by inputting lyrics and music, celebrates the 10th anniversary this year. A lot of creators using the software posted their completed works on the Internet, which made the movement at once. Hatsune Miku has also attracted people's attention as a virtual singer character, being used in live-performance as well as merchandises. Now its popularity is expanding in various fields globally.
Isao Tomita, one of the most prominent Japanese composers, also known as the composer for Tezuka animations including Jungle Emperor, was the man who linked Tezuka to Hatsune Miku.  In 2012, Tomita performed Symphony Ihatov, in which he firstly challenged collaboration between the orchestra and the Vocaloid.  Also Hatsune Miku, disgusing herself into Sapphire appeared on the stage while Tomita was playing "Princess Knight" as one of the attraction of the performance, which became hot topic later.
Thus Tezuka works met Hatsune Miku.
This exhibition is held in commemoration of the birth anniversary for Tomita Isao and Hatsune Miku.
The exhibits include art works of Hatsune Miku drawn for the exhibition by various creators inspired by Tezuka as well as the 3D computer graphic model singing in the place. The exhibition surely entertains visitors with the world of Hatsune Miku.
Organizer: Takarazuka city/Takarazuka city Board of Education
Supported by Kiss FM KOBE/FM Takarazuka
Cooperated by Crypton Future Media/Nippon Columbia
Period: July 1m 2017 – October 23, 2017
Closed on Wednesdays (except July 19, 26 and Wednesdays in August)
Hours: 9:30 – 17:00 (last admission: 16:30)