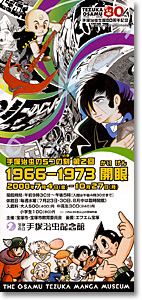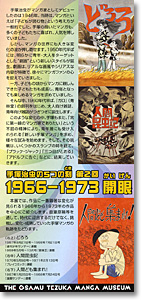 The 44th Exhibition: Opening Eyes - in commemoration of the 80th anniversary of Tezuka Osamu #2 (1966-1973)
Period: July 4, 20 – October 27
Venue: Tezuka Osamu Manga Museum

Tezuka Osamu made his debut as a manga artist in 1946, the time manga was thought as a thing only for children, and his manga works were read by a lot of children as well, enjoying popularity among them.
But a new wave, Gekiga, arrived in the mid 50's. Gekiga, targeted to youth and adults, was a new style of manga with realistic drawings and serious stories, which was gradually accepted among manga fans.
Indeed adults growing up with reading manga in their childhood were looking for manga grown-up could also enjoy.

In the mid 60's, comic magazines targeted for youths and adults including "GARO" (Seirindo) were published one after another.
Under such circumstances, Tezuka, a man with an unyielding spirit, also made an attempt to create "New Tezuka Manga" which could be adopted by youths and adults. It was not an easy challenge; however, Tezuka authored Balck Jack, Three Eyed One and Three Adolf after experiencing several slumps.
This exhibition features his works from 1966 till 1973, the period remarkable changes were seen in his works. Through the display of his original manuscripts, the exhibition follows the path of Tezuka manga until it matures through challenges as well as changes.
---