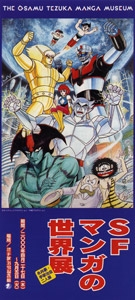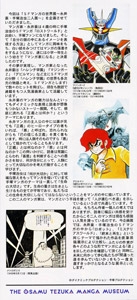 Period: April 27, 2000 – September 5, 2000
Venue: Tezuka Osamu Manga Museum
This exhibition features the Sci-fi manga by Nagai Go and Tezuka Osamu.
Nagai Go, who encountered "Lost World", a sci-fi work by Tezuka at the age of four, became a big fan of Tezuka.
Then Nagai, interested in manga as a way to express ideas in his head, began to draw cartoon-like graffiti on paper, deciding to be a manga artist at the age of six.
Nagai realized his dream. He produced a number of hits including Mazinger Z, Devil Man and Harenchi Gakuen mainly in the genre of sci-fi, and is still serializing several works on magazines as a popular manga artist.
His works attract readers with dynamic expressions and unimaginable stories, and the basic theme asking readers what justice is.
Nagai depicted various heroes. Some are exact heroes embodying justice while some are heels pursuing justice only by the ways they believe in.
He also depicted human beings as evil beings in his some works.
Thorough such his works, readers are asked what justice is and what evil is, noticing it's just silly to judge good and evil based on common sense as well as to take an action asking what is important for oneself or further for human beings.
On the other hand, Tezuka Osamu authored his works with one clear and concrete belief through his career – that is "conveying importance of life".
All the living things are equally important and should be treated equally – that's what he depicted in his works.
What was common between the two artists was both tried to show the right paths for human beings, although they were based on their personal beliefs. Readers, however, supported such their beliefs and the two artists gained continuing popularity.
This exhibition compares sci-fi manga works based on the common themes such as "robots", "mysterious world" and "end of the world and reincarnation" authored by the two artists by displaying the original manuscripts. It also shows the paths the two tried to convey through their works as well as presents visitors a chance to reconsider the paths we should take from now on.