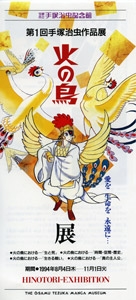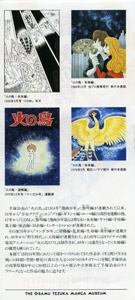 The 1st Period: August 4, 1994 – November 1, 1994
Venue: Tezuka Osamu Manga Museum
"Phoenix" is the work Tezuka Osamu kept authoring during his career for more than 34 years. In 1954, "Dawn", the very 1st chapter was serialized on Manga Shonen, and the trilogy titled "Egypt", "Greek" and "Rome" was serialized from 1956. Subsequently another version of "Dawn" was serialized on COM, followed by "Future", "Yamato"," Space", "Ho-o", "Resurrection", "Hagoromo" and "Intermission".
From 1976, "Nostalgia", "Civil War", "Life" and "Strange Beings" were serialized on Manga Shonen, and from 1986, "Sun" was serialized on Yasei Jidai.
Furthermore a theatrical feature animation film titled Phoenix 2772 was released in 1980. Tezuka was also developing ideas for "Earth" in 1988, which unfortunately became the incomplete chapter due to his death.
This exhibition, consisting of the following four parts: "Life and Death", "Battle for Living", "Time, Space and History", and "The True Hero", shows the attraction of the great work with more than 80 original manuscripts by his hand as well as explanation panels and displays.