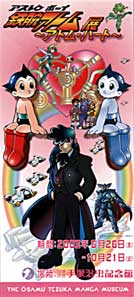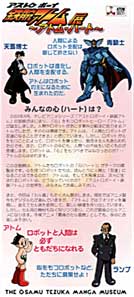 Place: The Osamu Tezuka Manga Museum
Time: June 24, 2003 - Oct. 21, 2003
In April 2003, the animated TV series "Astro Boy / Tetsuwan Atom" started to air and Atom, a robot hero with a heart, was born. Atom strives to solve problems caused by humans and robots, but he has mixed feelings. He believes that humans and robots can be friends. However, when robots with hearts are created, a number of humans who hate robots or use them for wrong purposes, emerge. This also leads some robots to become distrustful of humans. Should robots not have hearts? Atom finds his opinions wavering.
This special exhibition features the "hearts" of robots, including Atom as the main theme. Can robots with hearts really become "friends" with humans? What will happen to Atom, Dr. Tenma, and all the robots that have been created? We hope everybody will enjoy the world of "Astro Boy / Tetsuwan Atom."
Moreover, the exhibition will include many "animation cells." Animation productions are rapidly going digital nowadays but with quality paramount in thinking, cells have been used deliberately for the current series "Astro Boy / Tetsuwan Atom," and as a result, beautiful images have been created. Since the equipment for producing cell animation is no longer being produced, this will be the last cell animation. We hope you thoroughly enjoy the exhibition also as "an exhibition of the last Tezuka cell animation."