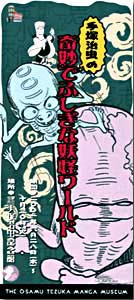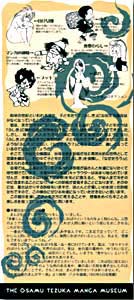 Place: The Osamu Tezuka Manga Museum
Time: June 28, 2001 - Oct. 30, 2001
Today, in what is called the century of science, there seem to be fewer opportunities for children to encounter "wonders."
In the old days, children were exposed to a world filled with many "wonders" and they enjoyed mysteries and freely stretching their imagination. But now, past childhood dreams are realized, and one after another the explanations of "wonders" are revealed. It seems to be difficult for children to encounter "wonders" that can stimulate their imagination and cause them to ask themselves "why?"
Given this factor, with this special exhibition, the entire exhibition hall will create a world in a different dimension inhabited by monsters. It will be a participatory exhibition in which children experience "wonders" and ask themselves "why?"
In the exhibition hall, humorous Tezuka-style monsters that are eager to become your friends will await you. Tezuka Osamu's monster characters are less well known but according to his monster theory (see below), even an alien is counted as a monster, so many monsters appeare in his work. Some of them do nothing but bad things but most of his monsters are generous-hearted.We hope you will become friends with them on this occasion.
We hope the exhibition will allow children to discover the fun of thinking and letting their imagination run free.
~Tezuka Osamu's monster theory~
A manga wizardly hermit said with a frown,
"Mr. Tezuka, in spite of being a cartoonist, you don't know much about monsters. Something human-like but mysterious inspires fear in humans.
That is a monster."
The most modern monster is the familiar alien. It stands on two legs and looks like a human in some respects. But if there really are monsters, their looks must be way beyond our imagination. In ancient times in China, monsters were divided into monster foxes, unworldly beings, and demons. Monster foxes are foxes in disguise, unworldly beings are monsters from the world above, and demons are ghosts, and evil spirits from under the ground. In the old days an illness was considered a demon. Even today a festival called "expelling demons" is held to exorcise illness in some local regions in Japan.
A long-nosed goblin was considered as a god protecting a mountain in ancient days but it was an invisible spirit. It was long afterward that such horned demons and long-nosed goblins started to be drawn as we know today. But do not blame cartoonists for that.
Excerpt from "Tezuka Osamu's Manga Arabian Nights" (published in the May, 1960 issue of "Shonen Gaho")